KORREX® snap caps are a complete solution for covering fasteners such as bolts, pop rivets, etc. Each snap cap consists of a plastic washer and cover cap. No other materials or screws are needed.
The snap cap washer is placed under the bolt or nut. If the cover is then clicked over the screw, the material remains protected against all external influences.
A KORREX® snap cap has a buffer in the washer and the ratio between the cap size and the washer size is perfect, so all fasteners are completely covered. Bolts, screws, pop rivets, self-tapping screws, and many other types of fastener are sealed watertight and completely protected against corrosion and other negative effects. It provides electrical insulation, and the cover protects all surface coatings. The snap cap itself is made of UV-stabilised plastic, so it's weather-resistant.
Advantages of KORREX® snap caps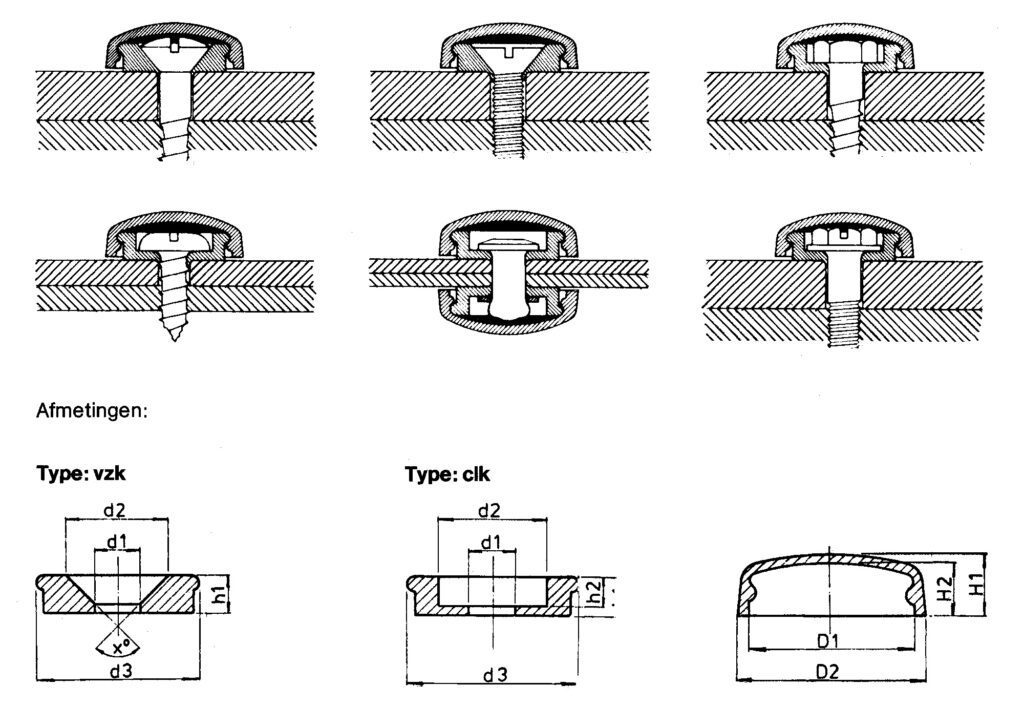 Part.No.
For thread size
Type
d1
d2
d3
h1
h2
X
D1
D2
H1
H2
packing
unit/pcs
1704010000000
M4
Cap
11,00
12,50
5,40
4,40
500
1704020000004
M4
V.Z.K.
4,10
8,00
10,50
3,80
90,00
1704030000001
M4
C.L.K.
4,10
8,00
10,50
3,00
1705010000000
M5
Cap
13,00
15,00
6,50
5,50
500
1705020000004
M5
V.Z.K.
5,10
10,00
12,70
4,50
90,00
1705030000001
M5
C.L.K.
5,10
10,00
12,70
3,50
1706010000000
M6
Cap
15,30
17,50
8,30
7,00
500
1706020000004
M6
V.Z.K.
6,10
12,00
15,00
6,00
90,00
1706030000001
M6
C.L.K.
6,10
12,00
15,00
4,50
1708010000000
M8
Cap
11,00
12,50
5,40
4,40
500
1708020000004
M8
V.Z.K.
8,20
16,00
18,30
6,20
90,00
1708030000001
M8
C.L.K.
8,20
16,00
18,30
3,00
A snap cap is composed of a plastic washer and cover cap
No other material is required for attachment
Watertight seal, protects against corrosion and other negative effects
Electrical insulation
Protects surface coatings, such as enamel and lacquer
The sizes are standard, so usable everywhere
Attachment is very simple
Attaching KORREX® snap caps
Attaching a KORREX® snap cap is very simple. The retaining washer is slid onto the screw, with the flat side at the bottom. The screw is tightened. The KORREX® cover cap is then pressed over the screw and the washer.
Disclaimer: All descriptions, technical information, drawings and dimensions on this website have been compiled by Dubo Dorned B.V. with the greatest care. Nevertheless, Dubo Dorned B.V. cannot accept any liability for type-setting and typographical errors, technical changes to the products or for any incidental or consequential damage in connection with our technical statements or our ability to deliver. All drawings and descriptions on this website are in no way of an agreed quality. The information herein concerns typical values intended for reference and comparison purposes only. It should NOT be used as a basis for design specifications or quality control. Contact us for full material property datasheets from manufacturers. Understandably, the application of the products listed assumes expertise on their use and assembly as well as standards. All our offers and any subsequent orders and agreements resulting thereof are exclusively subject to the General Terms and Conditions of Dubo Dorned BV.